Criminalising Solidarity
Humanitarian instruments and international institutions, designed to provide a minimum of protection to human lives across the globe, have become largely ineffective, while the majority of EU governments discard their own legal and political responsibilities towards people who are on the move for a range of complex reasons. Since 2018, maritime search and rescue (SAR) of people escaping war and violence across the Mediterranean has become emblematic of the criminalisation of humanitarian action on behalf of those who are forced to flee their homes and who are trying to reach refuge on European shores. Several individuals from European SAR NGOs, together with fishermen and crew members of trade vessels, were publicly defamed and charged with: collaborating with smugglers; lacking formal registration; or refusing cooperation with the newly trained and equipped Libyan Coast Guard (LCG) that has a well-documented track record of abuse, including transferring European-bound migrants to a war zone and detention centres in Libya. On land, humanitarian actors, rights activists and engaged citizens assisting asylum seekers across the EU, have fallen victim to accusations, arrests and intimidation for supposedly facilitating illegal entry and transit, or assisting illegal residence and/or other charges specific to EU Member States' immigration laws.
How we want to create change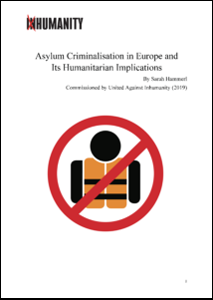 To gain a better understanding of the factors driving asylum criminalisation in
the EU in recent years, United Against Inhumanity commissioned a report in 2018 to assess the implications for effective humanitarian action. Published in May 2019, the report "Asylum Criminalisation in Europe and its Humanitarian Implications" concluded that the increasing enforcement of laws targeting third parties who assist asylum seekers, amounts to a systematic and Europe-wide campaign to effectively compromise assistance to asylum seekers – in line with the EU's restrictive approach towards global migration trends.
We, at UAI, argue that the criminalisation of migration and its negative implications for people everywhere need to be addressed on various levels – political, economic, socio-cultural, psychological, and ethical – and by various actors ranging from policy-makers through to legislators and the wider society, in order to respond effectively. Above all, we believe that engagement with the concerns of affected communities is essential to challenge acts of inhumanity perpetrated against them. 
UAI aims at:
advocating for creating and/or changing policies and laws to ensure effective protection of those forcibly displaced
increasing public awareness – and the challenging – of deterrence policies and the consequences of discriminatory and inhumane practices
promoting sustainable actions and joint impact with other actors globally
We argue that asylum criminalisation and its implications for our societies need to be addressed on various levels, while the engagement with the concerns of affected communities is essential to challenge acts of inhumanity perpetrated against them. We are further convinced that a combination of sustained international advocacy work and campaigning, based on a network of civil society organisations, academics, diaspora groups, artists and committed individuals, will lead to stronger public engagement pressing for political change. Together with supporters and partners, UAI seeks to bridge diverse perspectives on today's inhumanities and foster exchange and collaboration globally, so that inhumane treatment of victims, survivors of conflicts and survivors of forced displacement can be brought to the attention of the public and political decision-makers.
To this end, UAI wants to connect with networks of people to challenge deterrence policies as well as the consequences of discriminatory and inhumane asylum practices, whilst promoting joint action. If you would like to join us, please email asylum@against-inhumanity.org
---
| | |
| --- | --- |
| Report briefing note: | |