Placing the protection of civilians at the heart of military operations – Conference
17 December 2019 @ 9:00 am

-

4:30 pm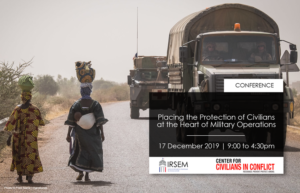 While European governments are facing growing tensions affecting their security and defense environment, it is crucial that they keep prioritizing the protection of civilians in their own military operations, as well as in their engagement with partner forces whom they train and assist.
The IRSEM and CIVIC are convening a one-day event that will explore what bettering the protection of civilians in military operations means in practice, and what concrete approaches, policies, and tools can be considered by militaries and governments to meaningfully translate words into concrete actions to protect civilians caught in the midst of conflict.
This event is willing to open an enriching and comprehensive dialogue between militaries, diplomats, civil society representatives, the private sector, and academics, and will seek to provide an international perspective on POC through contributions from NATO, the US, the UK, France and others.