By Norah Niland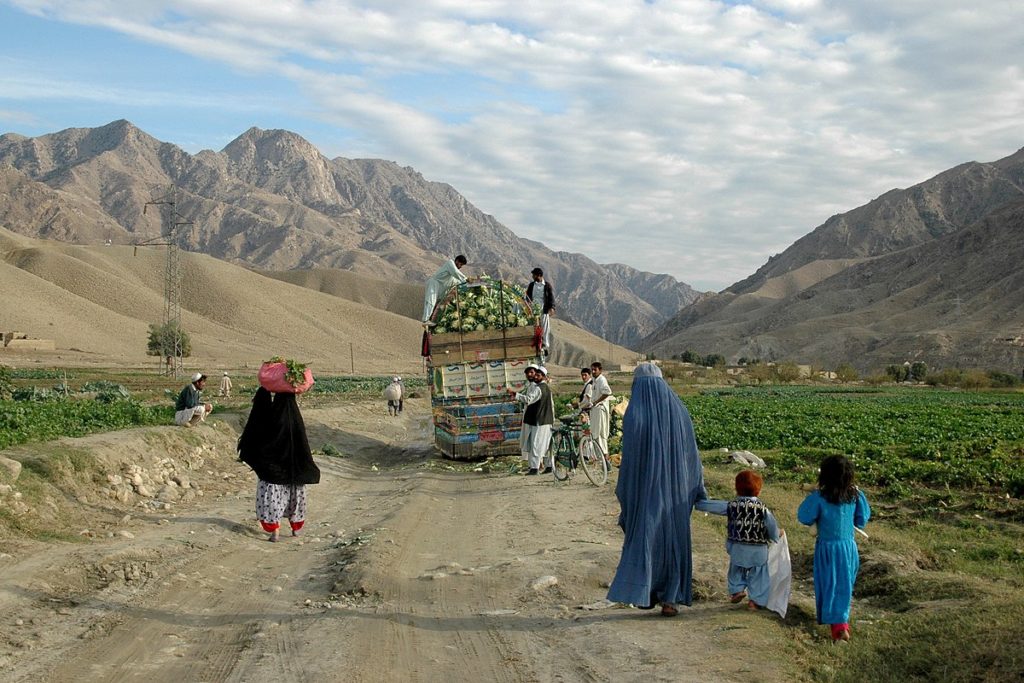 Ten months since the Biden Administration blocked the Afghan central bank from accessing the country's external reserves – resources that belong to the people of Afghanistan – hunger stalks the land adding to the misery of citizens, including women and children, struggling with the consequences of Taliban rule. Writes Norah Niland.
Since the Taliban regained power in Kabul last August, the media is full of their dastardly deeds and the shocking situation this entails for women and girls and a host of others including ethnic and religious minorities, journalists, individuals affiliated with the former regime, human rights advocates and civil society activists. At the same time, there is a chorus of concern about deepening poverty, loss of livelihoods, growing deprivation, and unprecedented levels of hunger and starvation.
According to the World Food Programme one in three Afghans are not getting enough to eat. UNICEF recently advised that 1.1 million babies and children less than five years old would "likely face the most severe form of malnutrition" in the coming months given the growing numbers of "hungry, wasting-away children" being brought to hospitals and the struggle to keep pace with "relentlessly worsening conditions." The NGO, Save the Children, reported in May that thousands of Afghans were pushed into famine in recent months; 9.6 million children were "unable to secure food" on a daily basis. It attributed this to the deepening economic crisis.
Economic and Related Banking Crisis
The current situation of multiple, interlocking crises cannot be divorced from the repercussions of four plus decades of armed conflict and the failed state-building and democratization process that emerged from the Bonn Agreement, December 2001. The Agreement had critical flaws including the exclusion of Afghans sympathetic to the Taliban regime that was ousted by US gunfire. Its implementation was equally flawed. US rather than Afghan perspectives were prioritized. This included the political, military, and financial support given to various well-known warlords and lack of meaningful attention to accountability.
The post Bonn dispensation did enable many positive developments. Positives included more kids, including girls, in school, greater access than before to an improved health care system, the repatriation of millions of refugees from neighbouring countries as well as the emergence of civil society actors throughout Afghanistan. A robust media environment, as well as enhanced social media and communication networks, facilitated the presence of diverse voices in the public sphere. However, institutional reform and capacity-development were stymied from the start by entrenched impunity, dysfunctional, centralized, and corrupt governance as well as inadequate and ineffectual investment in poverty reduction. In addition, a project-style approach to strengthening human rights was pursued rather than an overdue national dialogue on the fundamentals needed to undo a long history of deep-seated discrimination against females and pervasive abuse of power.
Long before the Taliban marched into Kabul last year the Afghan economy was contracting thanks, in part, to growing insecurity, a severe drought, and the government's unusually high level of dependence on Western support; "40% of the economy and 75% of the government's public spending came from international donors." Economic turmoil and chaotic governance meant that civil servants staffing essential services such as health and education had not been paid for months prior to the collapse of the Ashraf Ghani Administration.
Shortly after the Taliban takeover, Washington, and its allies, cut-off their massive aid pipeline and instructed the World Bank (WB) and the International Monetary Fund to do likewise. This included the WB's Afghanistan Reconstruction Fund that doled out salaries to millions of Afghans, many of them female, including teachers, health personnel and other frontline workers.
The US, in concert with European governments, also blocked Da Afghanistan Bank (DAB), the country's central bank, from accessing Afghanistan's foreign reserves and, by extension, the international banking system. This crippled the Afghan economy and its banking sector. This, in turn, led to the immediate loss of jobs and livelihoods, widespread poverty, hunger, limited health care and new refugee flows.
Manufactured Poverty
The DAB, like all central banks, has a critical role to play in supporting a functioning economy. Its responsibilities include stabilizing the local currency, the afghani, through routine currency auctions to maintain price stability, to foster liquidity, execute foreign exchange policy, and regulate financial institutions. However, with no access to Afghan external reserves – US$9.1 billion arbitrarily sequestered in the US Federal Reserve and various European banks – the DAB is unable to undertake this "critical market stabilization function." In a cash-based economy, with significant current account deficits as imports exceed exports, the inability of the DAB to operate as required translates into unchecked inflation. This has put everyday basics such as food and fuel for cooking, and staying warm in winter, beyond the reach of millions of Afghans from all walks of life; many are lining up for humanitarian aid for the first time in their lives.
The DAB, restructured in 2004 as part of a wider, post-Bonn, capacity-building exercise, is an independent institution; it has full autonomy to operate without political interference. As noted in a World Bank review, a "new central banking law is now in place that guarantees the central bank's autonomy." In sum, the DAB's resources do not belong to the Taliban nor, indeed, to the Biden Administration. They should not be used for domestic or US foreign policy agendas. Importantly, these assets belong to the Afghan people. DAB resources also include the savings of many Afghan citizens and the wherewithal required for everyday private sector transactions.
It is worth noting that different rounds of US sanctions were first introduced in 1998 against the Taliban and specific Taliban officials. However, when the DAB was manacled, these measures effectively became sanctions against all the people of Afghanistan. Moreover, the international banking sector has opted for a pronounced risk-averse approach; it declined to undertake regular transaction with banks in Afghanistan given fear of transgressing the US sanctions regime. As a result, international financial transactions have become practically impossible as Afghan banks cannot readily access the international financial system. Imports and especially exports have ground to a trickle. As noted in The Broker, the catastrophic economic crisis in Afghanistan is "to a large extent caused by the international response to the Taliban's seizure of power."
The freezing of Afghanistan's external reserves raises several questions including but not only in terms of human rights. Why, for example, are regular Afghan citizens made to suffer for a crisis not of their making? This is happening as they struggle to survive the draconian reality of Taliban rule as well as US-led policies that are dismissive of the right to food of Afghans including the many who are starving, malnourished or at death's door. This is tantamount to collective punishment.
The Biden Administration, the UN and the humanitarian community have pushed to find alternatives to the hobbled banking sector to facilitate the transfer of financial resources for specific projects. This has resulted in some welcome easing of resource flow restrictions including for relief efforts. The UN and its partners have also launched a series of Humanitarian Appeals in recent months to address the consequences of the crippled economy. This includes the single-largest ever, crisis-specific appeal in January 2022 for US$5 billion. A similar humanitarian appeal was issued in March for US$4.4 billion that resulted in pledges of US$2.44 billion.
However, it is self-evident that humanitarian assistance can never be a substitute for a functioning economy whatever the setting. For the most part, it is a stop-gap measure to help crisis-afflicted communities deal with threats that overwhelm their usual coping mechanisms. It is noteworthy that, with a few exceptions, humanitarian actors have been silent on the political causes of the current crisis – donor policies "that manufacture poverty." This, presumably is done to safeguard bilateral donor relations and NGO funding flows. This stance contrasts with the many crisis situations where humanitarians have highlighted the role of warfare, drought, or flooding, for example, in generating the need for humanitarian action. It is no less noteworthy that when Mr. DeLaurentis, US Deputy Ambassador to the UN in New York addressed the UN Security Council in March, he said that the "the onus" was on the Taliban to restore economic stability after the UN noted that the Afghan economy was headed towards "a point of irreversibility." A few weeks later, the US government reacted negatively to a statement by fourteen independent UN Special Rapporteurs who expressed concern that the alarming situation in Afghanistan was "exacerbated by the measures imposed by the US."
The Takeaway
The situation in Afghanistan is dire. It is also immoral. It is, largely, a human made disaster that imperils the lives of millions and further marginalizes and disempowers women and girls. The Taliban are, unsurprisingly, being challenged by a broad range of actors within and beyond Afghanistan for their uncompromising stance on policies and practices that are harmful and unacceptable to large numbers of Afghans, male and female. Policies that, pushed by the US and its Western allies, have denied Afghans access to their sovereign resources – assets that belong to the Afghan people – are no less reprehensible. The lived experience of a broken economy, rising debt, and impoverishment is a nightmare for the millions who struggle, daily, to feed their kids and other family members. Data on the impact of the economic situation is not readily available but it has been clear for months that women and children face particular problems as health services, for example, become less available and accessible. In March, UNICEF noted that the Afghan health sector was close to collapse with "coverage of many lifesaving interventions for women and children falling between 20 and 30% within days".
The deteriorating situation in Afghanistan has given rise to different initiatives and reactions within and beyond the aid community, diplomatic circles, and among the Afghan diaspora. Some individuals and entities are of the view that isolating and not interacting with the de facto authorities will, somehow, convince the fractured Taliban Movement to switch course. Others, including actors with long experience in the country, argue that it is not acceptable to penalize or deliberately endanger Afghans because they are trapped in a deplorable situation. They also underline the need for ethical and practical measures. Unblocking the DAB's access to all of Afghanistan's external resources, while monitoring the use of same, is one such measure. It will save countless lives and radically reduce or reverse malnutrition rates.
Conscious of the political dynamics driving, and deepening, the crisis in Afghanistan different initiatives and campaigns have been mobilized, to challenge, and bring an end the avoidable hunger, loss of hope, and the deprivation that is driving many desperate Afghans from their homes. There is growing awareness of the need for vision, ethical leadership, and political will to bring about the change necessary to save lives. It is also apparent that the general public needs to be more engaged and reject the normalization of measures that put in question our common humanity.

United Against Inhumanity remains committed to its campaign to bring an end to policies that are an affront to human rights and notions of a shared humanity. Other NGOs – including the Unfreeze Afghanistan Coalition in the US and Emergency in Italy – have called for similar straight-forward measures that can be easily implemented if enough political will is galvanized. Silence is violence. As Edmund Burke put it, back in the 1700s, for evil to triumph all that is needed is for good people to do nothing.
---
About the Author:
A Co-Founder of United Against Inhumanity, Norah Niland has worked on humanitarian and human rights issues for much of her adult life. This includes many years of engagement with Afghanistan where she has worked on various occasions including during the first Taliban Emirate as advisor to the aid community on human rights. Norah headed up the human rights team in UNAMA (2008-2010) when she introduced, for example, programmes to address gender inequity, impunity, as well as a campaign to reduce the impact of war on civilians through systematic investigation, analysis, and public reporting on incidents involving civilian casualties.
---
*Image Credits: Afghanistan Matters via Wikimedia Commons