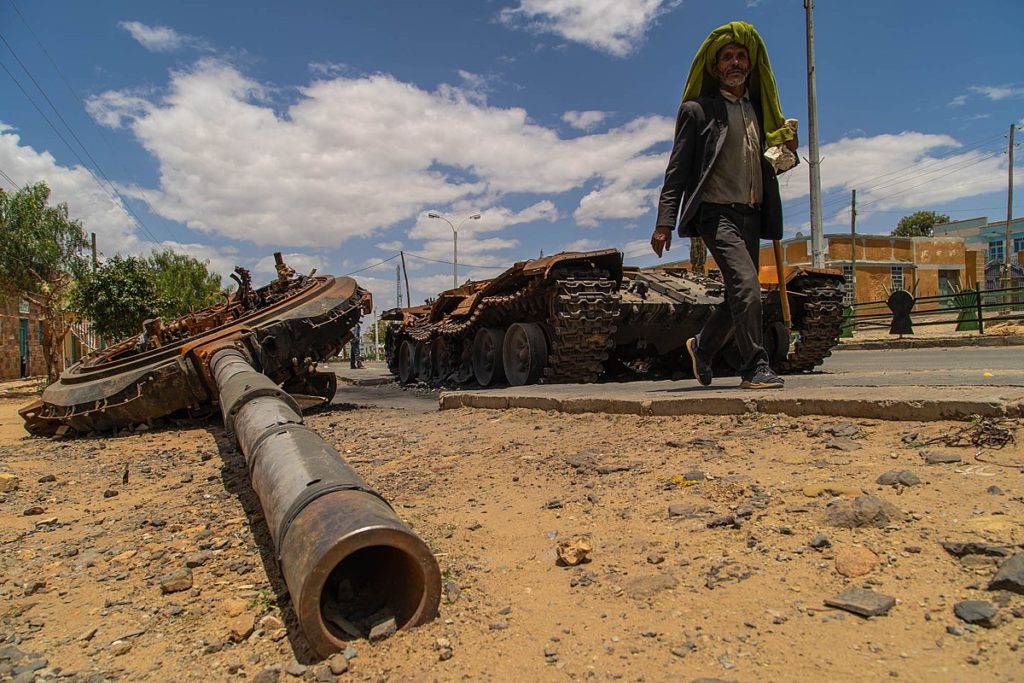 By Angela Raven-Roberts
There was a district in Addis Ababa wedged between the two former imperial palaces and the prestigious Sheraton and Hilton hotels called Iri Bekentu by the locals, a phrase meaning 'Cry to no avail.' It was a phrase referring both to the unanswered pleas of the poor and marginalized who clung to a precarious life in the shacks along the river, and to the unheard pleas of a passerby perhaps being mugged as they made their way through its narrow alleys. Today that phrase could be used to describe the pain and suffering of so many in Ethiopia. The many who are currently reeling from the drought decimating their crops and livestock, the ones trapped in Tigray still waiting for emergency relief to reach them and to be reconnected to communication and basic services, and above all, to the many victims of a spiral of violent attacks and forced displacements that are occurring in many parts of the country.
In Tigray the truce declared three months ago is still in place and humanitarian supplies are slowly reaching Mekelle the capital, en route to wider distribution. Direct and indirect talks between the government and Tigrayan authorities are said to be taking place under the auspices of the African Union (AU), the US, other supportive inter-governmental mechanisms and a national dialogue commission set up to review future constitutional issues.
The costs of the war combined with the impact of Covid-19, the region-wide drought and the Ukraine war are all having a devastating impact on the economy and society at large. Inflation is at 36.6%, numbers of internally displaced currently stand at 5 million and the humanitarian appeal identifies key needs for 13 million people.
Whilst the attention of the world has been focused on the conflict that broke out in 2020 between the federal government of Ethiopia and the region of Tigray, less attention has been given to the steady increase of localized conflicts, inter-communal violence, the arming and creation of new militias and the demonizing public rhetoric and social media attacks targeting various ethnic groups which has been growing including in particular since 2018. Apart from Tigray, the last year has witnessed conflict and violence continuing or breaking out in Afar, Amhara, Benishangul-Gumuz, Oromia, SNNPR and Gambella regions. The latest massacre in Oromia follows an earlier incident in Gambella. Other incidents of violence include inter-religious violence and claims against the actions of counter-insurgency forces in the Omo region of the Southern Nation and Nationalities Region (SNNPR). The recent border conflict with Sudan adds a new dimension to insecurities in the region.
A complex variety of causes underlies these interrelated conflicts ranging from historical issues over the formation of the Ethiopian state to the creation of new boundaries under the 1991 federal constitution and the changes in party structure and attempts at reform started by Abiy Ahmed in 2018. All of these have involved a volatile and toxic mixture of identity politics centered around contested historical narratives, embedded in claims and counter claims of 'settler' versus 'ancestral' homelands fueled by demonizing hateful rhetoric resulting in targeted atrocities against civilians. Extra judicial killings, lynching, rape, massacres, burning of cultural sites, looting of properties, destruction of community livelihood systems and expulsions of communities characterize the violence. Although the forthcoming peace negotiations, the setting up of a national dialogue process, the truce and the release of humanitarian aid into Tigray is welcome, there is a danger that these very acts themselves can be further weaponized and used by political entrepreneurs and others to fuel further violence as actors jockey for political space and geographical place by demarcating boundaries in anticipation of constitutional changes and further regional reconfigurations.
Ethiopia is once more at a critical juncture and with the faint prospects of peace on the horizon, there is an urgent need for the international community to monitor and advocate that all parties and actors de-escalate the violence and violent rhetoric, encourage moves towards disarmament through prevention of arms flows into the country, and support other measures to demilitarize communities. The ongoing acts of violence, harsh counter-insurgency methods and forced displacement continue to break down and polarize trust and communication between and within communities.
This in turn could jeopardize future reconciliation and recovery measures and the implementation of accountability mechanisms for dealing with conflict-related crimes, reparation and restitution. The groundwork for future stability and citizen security must be laid now and be a part of mutually agreed peace-building measures. Support to national authorities to strengthen judicial institutions must be part of any post-conflict and development packages. Specific programs to address the needs of the victims of sexual violence must ensure culturally appropriate approaches and the implementation of agreed international standards for documentation and provision of services.
The calls for a de-escalation of violence must also be accompanied by amplification of, and support to, the emerging voices of Ethiopians and Ethiopian civil society organizations who are calling for peace and reconciliation measures. International media must do more to publicize community efforts and initiatives working for peace. The African Union and its peace and stability instruments need to be revitalized and empowered to become more assertive and focused on conflict resolution and peace-making activities. Finally, as all national and international actors are considering political pathways towards conflict resolution, renewed and re-invigorated initiatives need to be given to the key structural and interlocking risks and vulnerabilities that continue to act as drivers of conflict, namely population growth, access to land and employment opportunities.
70% of Ethiopia's population is under 30 years of age. Gender and generational characteristics continue to influence the ability of individuals to respond, adapt and recover from poverty, climate change, environmental degradation and conflict-induced shocks. Throughout the country's history, the inability of modernization and state-led developmental initiatives to satisfy the aspirations of its youth and to control the expressions of their frustrations has resulted in political upheavals.
A massive national and international partnership of public and private enterprises must come together in Ethiopia to re-imagine productive investments for creating an enabling environment in which young Ethiopians can flower and prosper. Initiatives such as the recent AU validated strategy on youth are another example of what donor countries and multilateral and national agencies can support and help implement to solidify any future peace processes. Joining militias and recourse to militarized livelihoods or migration and leaving Ethiopia altogether must not be the only options left for the survival and wellness of Ethiopia youth. They deserve more than that.