On Human Rights Day 2020, UAI calls for an end to atrocities in war and the inhuman treatment of those who flee them.
Human Rights Day 2020, and the call issued by the United Nations, remind us of what links us as members of a global humanity, as well as what divides us. As the first individuals outside trials receive their Covid vaccines, we remember the advice of WHO Director-General Adhanom that "none of us is safe until we are all vaccinated"[1].
At United Against Inhumanity, we use this day to remind our fellow members of the human race that, as we welcome the hope of an end to the pandemic, none of us can celebrate our humanity while so many of our fellow human beings are deliberately deprived of theirs.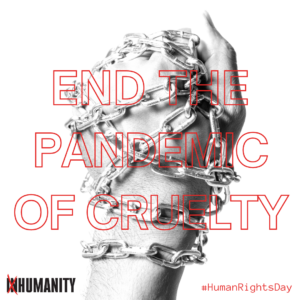 Every day families and their children living through wars in Afghanistan, DR Congo, Mali, Syria, Yemen and 20 other countries are being deprived of that most basic of human rights, the right to life. These wars are fuelled by our greed and indifference. Those who, in desperation, are fleeing to find safety are far too often losing their lives at sea or at the whim of traffickers, or being confined in inhumane detention facilities. On this Human Rights Day, we cannot assert our humanity while these atrocities take place, many of them committed by governments which claim to represent us.
On this Human Rights Day 2020, UAI commits to redoubling its efforts to bring about an end to atrocities in war and inhumane treatment for those forced to flee them.
[1] https://www.who.int/director-general/speeches/detail/who-director-general-s-opening-remarks-at-the-media-briefing-on-covid-19—18-august-2020
---
Help us to eradicate inhumanity from the world! Read and sign our Call to Action and get involved with or support UAI.