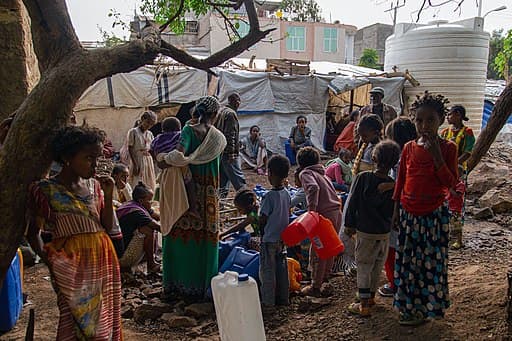 Today, 7 January, Christmas ("Ganna") is being celebrated in Ethiopia. 
Like many of the great festivals of various Ethiopian communities and faiths, it has always been a time when different groups in Ethiopian society come together with the country's Christians to celebrate. This year, we hope it will also be a time of healing, recovery, and reconciliation. After all the trauma and conflicts of the past year there will be a need for all to re-discover ways of celebrating commonalities, not differences.
It is now a full year and two months since the outbreak of armed conflict in Ethiopia. The conflict began between the Federal Government and the regional government of Tigray. The crisis has now spread to include the Amhara and Afar regions, causing an estimated 9.4 million people to need humanitarian assistance. (ref: OCHA Northern Ethiopia Humanitarian Update: Situation Report: 16 December 2021[1])) At the time of writing the military forces of the TPLF have withdrawn from these regions and there is a prospect for a negotiated ceasefire and moves towards a political solution. Recent clashes in the Amhara and Afar regions have displaced several thousand people. The UN estimates that more than 1.2 million people have been displaced from Western Tigray to other parts of Tigray since the start of the conflict. Humanitarian needs are also rising in other parts of Ethiopia. Drought is affecting the Somali and southern Oromia regions, conflict and displacements have taken place in Beni Shangul and Oromia regions and military actions reported in the Wellega region.
While the top priorities at this moment must be to bring the fighting to an end, and ensure that humanitarian aid reaches all those in need, several important issues have come to the fore that have had disastrous impacts not only in Ethiopia, but in several conflicts where issues of 'identity' are at the core. If these issues are not addressed in a coordinated national and international effort, conflicts will drag on, bringing yet more misery to millions of people and huge and unnecessary recurring costs to international donors.
UAI, therefore, calls for urgent international attention to these issues in Ethiopia and other relevant countries.
In addition to accelerated efforts to bring the fighting to an immediate end and to ensure the delivery of humanitarian assistance to all parts of the country where it is needed, the UN Secretary-General should coordinate the development of a comprehensive plan of action addressing these issues:
The use of hate-filled rhetoric to demonize 'others';
The unregulated use of social media platforms to amplify the reach of these hate-filled messages (Note the case being brought by Rohingya communities against Facebook for failing to block genocidal messages on its platforms);
The need for scrupulously independent investigations of alleged atrocities by all sides in the conflict and agreement on mechanisms for accountability for crimes committed;
The importance of independent media access and internet connectivity in all parts of the country, to minimize the impact of false reporting;
The need to support peace-building initiatives led by local communities to re-build confidence among neighbours of different identities;
UAI will monitor the national and international response to these issues in Ethiopia and produce updated reports on a regular basis.
7 January 2022
[1] OCHA Report: https://reliefweb.int/report/ethiopia/ethiopia-northern-ethiopia-humanitarian-update-situation-report-16-dec-2021