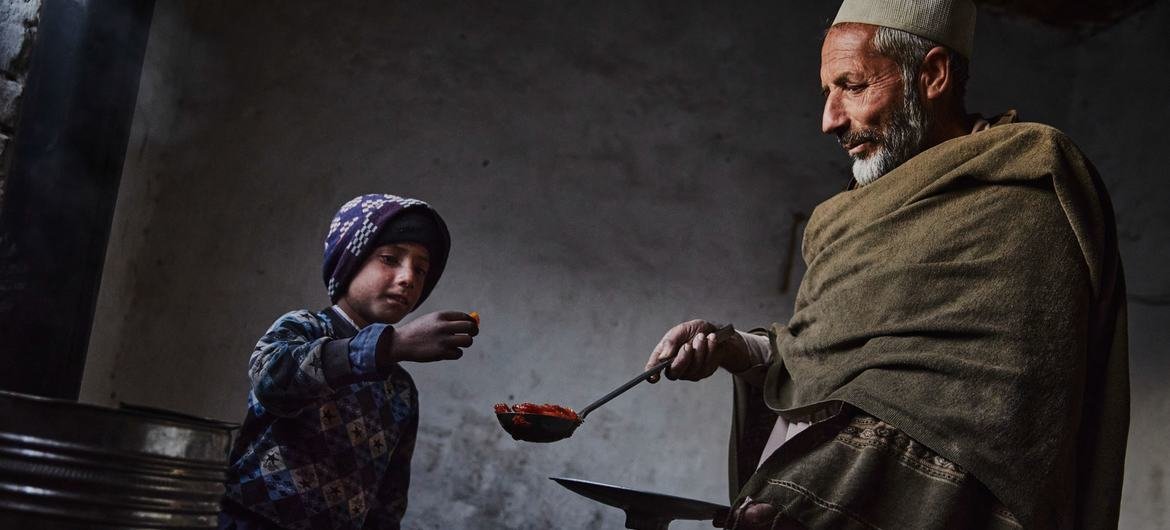 A Deliberate Man-made Disaster: United Against Inhumanity (UAI) calls for the immediate, monitored release of US$9.1 billion that belong to the Afghan people.
Donor states meet on 31 March to pledge, it is hoped, meaningful support for humanitarian action in Afghanistan. A record US$4.4 billion has been requested to meet growing humanitarian need. But whatever the amount pledged to alleviate the suffering of the most vulnerable, humanitarian assistance can never be a substitute for a functioning economy. It is a palliative not a cure.
Poverty and starvation are threatening the lives of millions of Afghans. The economy and the banking system have collapsed. Hunger stalks the land. Afghans are being punished and made to starve because of the arrival of the Taliban in Kabul last August.
Humanitarian aid cannot be delivered effectively unless the banking system in the country is operating normally. UAI calls for:
the immediate establishment of an internationally-monitored mechanism to allow the central bank – the Da Afghanistan Bank (DAB) – to access some US$150 million per month of the frozen reserves. This would allow the injection of a minimum of liquidity into the economy and enable inflationary control measures. This arrangement could be suspended anytime if the de facto authorities interfere with the independent functioning of the DAB.
the immediate transfer to the DAB of the 3 billion afghanis (some US$8 million), the local currency, that have been printed in Poland but not dispatched since last year.
These measures are straight-forward and can be easily implemented. What is missing is the political will.
The combination of brutal Taliban rule and frozen Afghan assets is deepening an unprecedented crisis. The rights of girls and women are under attack. The right to food is but a mirage for most Afghans.
UN High Commissioner for Human Rights, Michelle Bachelet, who visited Afghanistan earlier this month, noted that the deepening economic crisis may claim more lives than those lost during recent decades of armed conflict: it is "unacceptable and unconscionable" that Afghans have to cope with the prospect of "either bombing or starvation – or both."
This is a totally avoidable man-made disaster. Instead of finding ways of helping the population, the US, the UK, Germany, and other traditional donors are deliberately pauperizing the Afghan people and jeopardizing their right to life.
The survival of some 40 million Afghans requires the immediate if regulated access to the US$9.1 billion reserves that have been built up since the time of King Zaher Shah. UAI has written to President Biden, Chancellor Scholz, Prime Minister Johnson and other European leaders, as well as the CEOs of the banks that hold these reserves, calling for their release.
The arbitrary sequestration of the national reserves belonging to the people of Afghanistan is:
ethically wrong: As well-known academic and one-time advisor to the US government, Barnett Rubin, noted recently "the world's richest country has decided to rob the world's poorest country in the name of justice. A fitting end to the War on Terror."
politically reckless: it will fuel resentment among regular Afghan citizens, embolden the hardliners in Kabul who will, rightly, claim that the West cannot be trusted and contribute to the widespread perspective that Afghans are being purposely abandoned.
economically catastrophic: it will wreak more havoc on the lives and livelihoods of Afghans than anything they have experienced in the past 40 years of war.UAI calls upon international donors to demonstrate their responsibility to the people of Afghanistan by adopting these straightforward, practical measures.

For more information, please contact:
UAI Contact Address: , Norah Niland +4179 813 9803
Rome: Antonio Donini +4179 599 4614
London: Mark Bowden +44 7505 079891
Berlin: Celestine Schorlemer +4178 244 0920
Paris: Jean-Baptise Richardier +33 66 097 2809All the documents relating to the UAI campaign (letters to President Biden, leaders, CEOs of banks, supporting statement and press release) are available at: www.against-inhumanity.org