Dear Members and Supporters,

This month's newsletter includes links to two blogs and information about a campaign by Humanity and Inclusion called 'Stop Bombing Civilians' The first blog concerns the recent award of the Nobel Peace Prize to the World Food Programme and the second is by an asylum seeker in Australia.
1. The 2020 Nobel Peace Prize goes to …… The World Food Programme

The award of the Nobel Peace prize to the World Food Programme is to be applauded but, in a blog by Norah Niland, she argues that it brings with it a moral responsibility to ensure that the supply and distribution of food is not weaponised. Norah is a co-founder of United Against Inhumanity and sits on the International Executive Committee of UAI.

2. Refugee Rights in Australia

At a time when the issue of asylum is still high on the political agenda in Europe, it is useful to consider the plight of refugees in other parts of the world. Mostafa Azimitabar, an asylum seeker in Australia, denounces the Australian government's efforts to confiscate the phones of detained refugees as cruel attempts to silence and isolate and his report reminds us that the power of people is stronger than politicians.

3. 'Stop Bombing Civilians' Campaign by Humanity and Inclusion

We were approached, last month, by Humanity & Inclusion (a registered charity, formerly known as Handicap International) about their Stop Bombing Civilians Campaign and have included part of their email and links to their website. This is a cause that UAI endorses whole-heartedly and we hope that you will feel able to support them too.
Finally, if you have received this email from a friend and would like to subscribe to our monthly Newsletter, or receive information about our activities, please email us at

The Committee of UAI in the UK 6 November 2020
---
The World Food Programme is awarded the 2020 Nobel Peace Prize
The 2020 Nobel Peace Prize was awarded to the World Food Programme (WFP) for "its efforts to combat hunger, for its contribution to bettering conditions for peace in conflict-affected areas and for acting as a driving force in efforts to prevent the use of hunger as a weapon of war and conflict". WFP is the world's largest humanitarian organization, and food insecurity and food aid are much-discussed topics in humanitarian studies. Click on the link below to read the Citation in full.
https://www.nobelprize.org/prizes/peace/2020/press-release/
The Nobel Peace Prize Committee signaled the critical importance of food when it announced that the world's largest humanitarian agency, the WFP, was this year's winner for its role in combating hunger and, by extension, "bettering conditions for peace." This is encouraging news, but is it the full story?

The following blog is the third in a series on the same topic written by Norah Niland for the Peace Research Institute Oslo (PRIO). The series examines the implications of the award, critically engages with and debates food (in)security, food aid, innovation and technology and the WFP as an humanitarian actor. As well as being a co-founder of UAI, Norah is a long time aid worker and human rights defender. CLICK below to read the blog in full.
WFP wins the Nobel! Is this an opportunity to enhance protection?
---
The Power of People is Stronger than Politicians; unite for refugee rights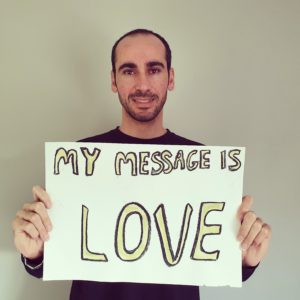 In September, Mostafa Azimitabar wrote a blog, at a time when the Australian government was seeking to pass a bill that would have allowed the confiscation, without cause, of mobile phones from anyone in immigration detention. Early in October, that legislation, officially called the Migration Amendment Bill (Prohibiting Items in Immigration Detention Facilities) 2020, but known more colloquially as the 'mobile phones bill', was rejected in the Senate. The outcome rode on a single Senator's deciding vote. A large mobilisation by people in detention, their advocates, and members of the public contributed to the bill's defeat.
Mostafa is a musician and human rights defender. He is in his eighth year of detention at the hands of the Australian government, following his arrival by boat as an asylum-seeker. After six years on Manus Island, Papua New Guinea, in 2019, he was transferred to Melbourne, where he remains in detention. You can follow him on Twitter @AzimiMoz and support his music via Bandcamp.

To read Mostafa's article, follow the link below:
---
The Bombs have not Stopped Falling – a plea for help from Aleema Shivji, Executive Director of Humanity & Inclusion UK

When explosive weapons are used in urban areas, 90% of casualties are civilians. Nisar (shown below) was 2 years old when an explosive weapon severely injured him and killed his cousin in Afghanistan. Surgeons were forced to amputate his leg, and during his recovery, his family had to flee their village to escape the violence. Now, he is working on his rehabilitation with HI's team in Kandahar.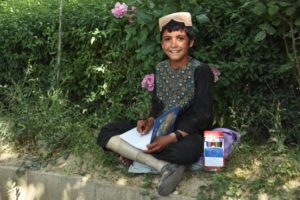 Photo: © Jaweed Tanveer/HI
Whilst Covid-19 has put so much of the world on pause, the bombs have kept falling. Conflict has escalated between Armenia and Azerbaijan, and people living in places like Afghanistan continue to fear for their futures.
Since October 2019, States have been talking about a political agreement to protect civilians in urban areas but, currently, they can't meet in person to finalise the agreement to protect civilians. It is not clear when they will be able to. It is important to keep up the pressure to ensure that, when the moment comes, they do the right thing.
Click on the following link to read the blog by Aleema Shivji, of Humanity & Inclusion UK, who argues that the UK needs to do more to protect civilians from explosive weapons
https://humanity-inclusion.org.uk/en/news/blog-the-uk-needs-to-protect-civilians-from-explosive-weapons
To support the Stop Bombing Civilians campaign, or to find out more, please follow the link below:
https://humanity-inclusion.org.uk/en/campaign/stop-bombing-civilians?utm_source=Humanity%20%26%20Inclusion%20UK&utm_medium=email&utm_campaign=11912473_2020-10-20%20SBC%20Update%20%2B%20Postcode&utm_content=stopbombing&dm_i=QI4,73BQ1,QWQJUI,SNSDX,1
Humanity & Inclusion is an independent charity working alongside people with disabilities and vulnerable populations in situations of poverty and exclusion, conflict and disaster.
Humanity & Inclusion (HI) is the new name of Handicap International.
UK Registered Charity no. 1082565