UAI in the UK's Dr Jeff Crisp will join Kaamil Ahmed to discuss his book "I Feel No Peace: Rohingya Fleeing over Seas and Rivers". Register here to join the event in person or on line.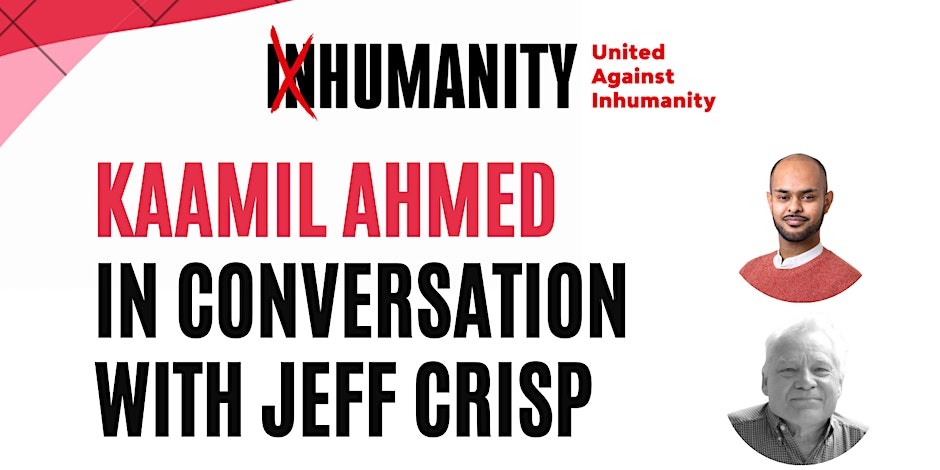 United Against Inhumanity in the UK invites you to an evening for a keynote event with Guardian Journalist, Kaamil Ahmed. This follows our extensive coverage of the plight of the Rohingya in Myanmar and abroad. Later in the evening UAI in the UK Committee members will report on the LBS (London Business School) project and formally hold their Annual General Meeting.
Please join us at Initiatives of Change venue on Monday 26 June. If you are unable to get to the venue it will be possible to watch on line. Book a ticket here via Eventbrite, preferably before Friday 23rd June 2023. If you are attending on line you will receive the Zoom link via Eventbrite.
Full schedule for the evening
6:30PM: Doors open (Tea and coffee will be available)
7:00PM – 8:00PM: Kaamil Ahmed in Conversation with Dr Jeff Crisp
8:00PM – 8:30PM: Committee Presentation: Initial Assessment of UK's Homes for Ukraine scheme
Presentation of an Initial Assessment of the UK's Homes for Ukraine scheme (a collaboration between MBA students at the London Business School and UAI in the UK).
8:30PM – 9:00PM: UAI in the UK's Annual General Meeting
Keynote event : Kaamil Ahmed in Conversation with Dr Jeff Crisp
Following UAI in the UK's coverage of the plight of the Rohingya, we are honoured that Kaamil Ahmed has agreed to take part in a conversation with Dr Jeff Crisp about the Rohingya who are the subject of his new book. (See the end of the event description for comments by some reviewers.) Furthermore, Jeff himself has been actively monitoring and involved in addressing the situation of the Rohingya for years. He recently published "UN and Rohingya Refugee Repatriation: is History About to Repeat Itself?" in The Irrawady newspaper (22nd March 2023).
Kaamil Ahmed is an author and a journalist at The Guardian, covering international development, who previously lived in and reported from Jerusalem, Bangladesh and Turkey. Kaamil studied at Queen Mary University of London. "I Feel No Peace" (2023) is his first book. It covers violence, persecution and exploitation of Rohingya and is published by Hurst Publishers.
Dr Jeff Crisp has held senior positions with UNHCR (Head of Policy Development and Evaluation), Refugees International (Senior Director for Policy and Advocacy) and the Global Commission on International Migration (Director of Policy and Research). He has also worked for the Independent Commission on International Humanitarian Issues, the British Refugee Council and Coventry University. Jeff has first-hand experience of humanitarian operations throughout the world and has published and lectured widely on refugee and migration issues. He has a Masters degree and PhD in African Studies from the University of Birmingham. He is currently an Associate Fellow in International Law at Chatham House and a Visiting Research Fellow at the Refugee Studies Centre, University of Oxford. He is a Committee member of United Against Inhumanity in the UK.
Location and accessibility
Initiatives of Change, 24 Greencoat Place, London SW1P 1RD
There is easy access to Victoria rail, coach and bus stations. The venue is a 10 minutes walk from Victoria underground station and St James' Park station is a 15 minutes walk. There are two car parking spaces that must be booked in advance. The nearest street parking is in Vincent Square.
The ground floor is fully accessible with a lift that provides access to the 1st floor. Disabled toilets are located on the ground floor. Guide dogs and other assistance dogs are welcome.
Please contact us to discuss your needs if need be:
Booking a ticket for the event
The event will take place in person, but you can also book a ticket to follow the event online. You will receive the Zoom link to follow the event online via Eventbrite, 48 hours before the event.
The event is free of charge, but you are welcome to support us by donating via our website. Please quote 'UK AGM Event' as a reference.
Reviews of Kaamil Ahmed's Book, "I Feel No Peace: Rohingya Fleeing over Seas and Rivers" (more are available here)
'An impressive mix of history, political analysis and extensive reportage from Myanmar, Bangladesh and Malaysia… The book gives a human angle to the refugee crisis and Ahmed's often tender portrayal, combined with a rightful anger for their treatment, is a must read.' — Asian Review of Books
'In prose that brims with empathy and humanity, Ahmed zooms in on individual lives to explain the breadth of this people's struggles.' — Prospect
As Mr. Ahmed observes with heart-rending eloquence, the Rohingya have been, since 1982, a species of non-people in Myanmar… To read Mr. Ahmed's invaluable book is to become overwhelmed with dread for the Rohingya.' — The Wall Street Journal