Dear Members and Supporters,
This month we have links to 3 blogs highlighting recent events. Two concern recent disasters – the explosion in the port of Beirut and the fire at the Moria camp on Lesbos, while the last blog is an appraisal of the recently published EU Asylum & Migration Pact.

1. Moria – Built to Burn
Early in September, a fire broke out in the Moria Refugee Camp on Lesbos forcing the relocation of its 13,000 inhabitants. On 18 September, United Against Inhumanity issued a statement reflecting on the dire conditions in the camp prior to the fire and the near inevitability of such a disaster.

2. Lebanon – Where the Humanitarian Vultures Descended
On 4 August, a vast quantity of ammonium nitrate stored in a warehouse on the docks in Beirut exploded. In an article first published by Mada Masr, Khaled Mansour describes how chaos in Lebanon will result in a rush for humanitarian funding, obfuscating the political responsibility for the crisis.

3. The EU Asylum and Migration Pact – Disingenuous, dishonest and dangerous.
On 23 September 2020, the EU published its latest Pact on Asylum and Migration. Jeff Crisp, Research Associate at the Refugee Studies Centre, Oxford University, Associate Fellow at Chatham House and member of UAI in the UK, gives an overview of the Pact and considers how well it addresses the problems of migration and asylum.
The Committee of UAI in the UK 2 October 2020
---
Moria – Built to Burn

Unless and until we switch gear, the EU will continue to spend billions of Euros incarcerating children and their families in hellish conditions that will fuel the next conflagration.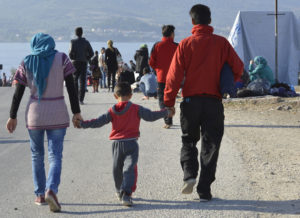 Featured Image: Anjo Kan / Shutterstock.com
To read the UAI Statement in full, follow the link below: https://www.against-inhumanity.org/2020/09/18/moria-built-to-burn/
---
Lebanon – Where the Humanitarian Vultures Descended
The Lebanon that was hit by a major explosion that affected 300,000 people in its capital on August 4, is a product of decades of war, sectarianism and corruption that was fuelled and abetted by regional and global powers. Khaled Mansour argues that the UN and other aid agencies which are now clamouring for funds, and describing the Lebanese situation as a humanitarian crisis, are obfuscating reality and, indirectly, helping the corrupt and incompetent regime they will work with to bring aid into the country.

You can read Khaled's blog (originally published by Mada Masr) by using the link below: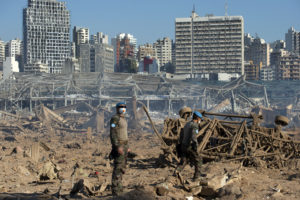 Photo: UNIFIL peacekeepers carry out an assessment of the damages in the Beirut Port. 5 August 2020.
Credit © UN Photo / Pasqual Gorriz
---
The EU Asylum and Migration Pact – Disingenuous, dishonest and dangerous

Jeff Crisp's blog, just published in the Refugee Law Initiative, examines the newly released EU pact and analyses its strengths and weaknesses.

Follow the link below to read comments and access the blog in full: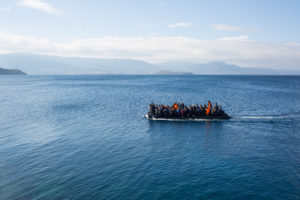 Photo : Lesvos, Greece. Credit © punghi
---